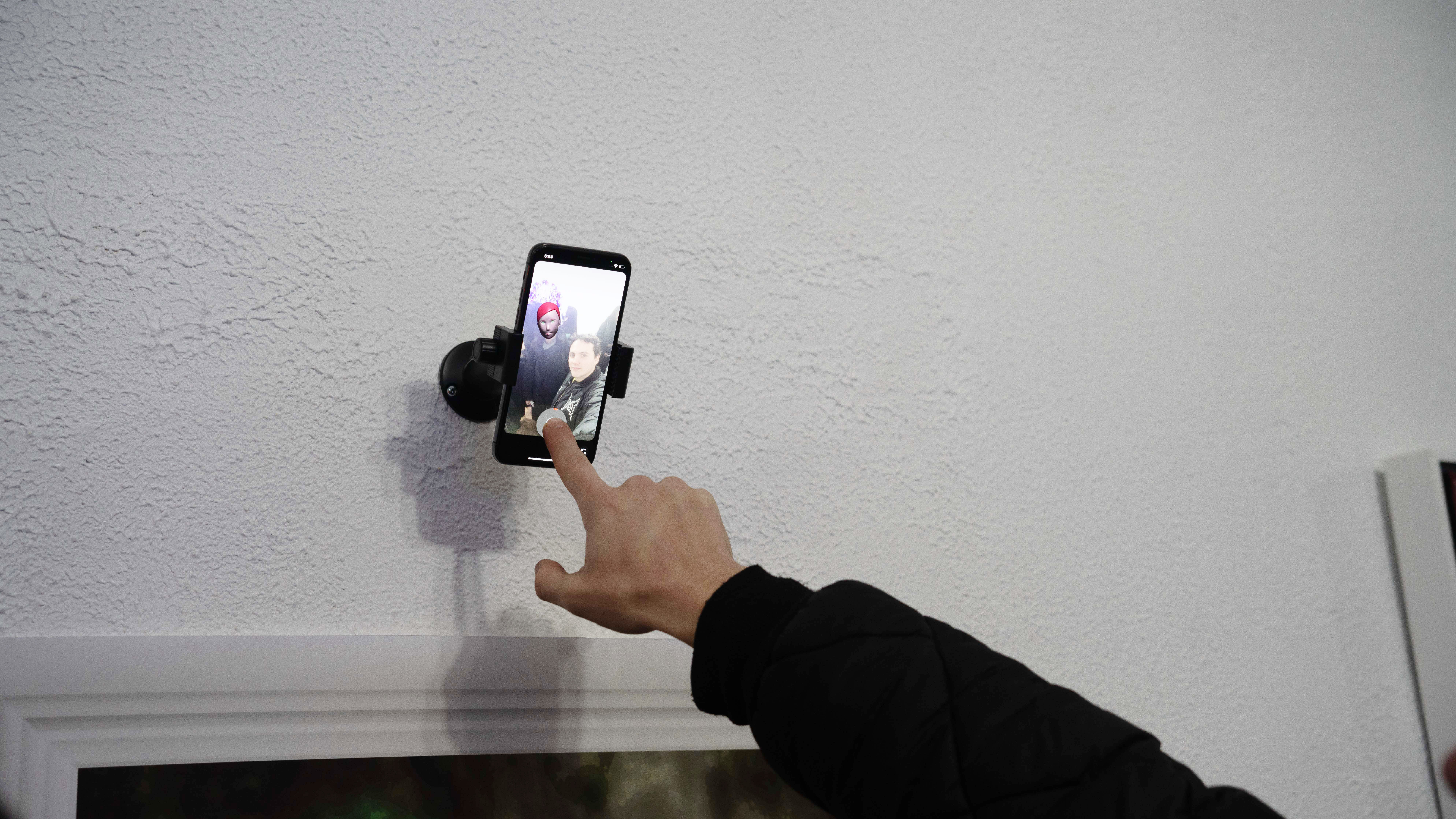 ①
The MILF Collection,
ongoing multimedia project. Currently includes
The MILF Film,
2021. 3D Animation. 06:28.
Click to view;
The MILF Head
, 2022. Interactive Animatronic;
The MILF Bot,
2022. AR Filter;
Her Marriage,
2022. Print, 28″x39″. Click through to see each piece.
This project looks into the suppressed desires of Asian housewives. Zhang portrays a formulaic and sexualized 'MILF' identity as an uncanny distinct individual in a variety of mediums. The project's centerpiece is The MILF (Man I'd Like to Feed) Film. It is a 3D animation focusing on female desires. In the film, the housewife willingly takes the serving role, dreaming to see her husband finish all the food she cooks. But when he does not, her desire becomes the whip of anger – She starts feeding him with force and violence. Breaking the boundary of media, Zhang aims to connect with audiences beyond the screen. The project has developed into an animatronic milf head with responsive green eyes, installations with a wedding image print, and mobile experiences with AR filters.
The MILF Collection
is featured in :iidrr Gallery's 'Alpha' Exhibition, the Palm Springs Animation Festival, the Situasian Exhibition, and Bright Future Open Media Show. An interview(Chinese) on this piece between Situasian and Zhang can be found
here
.
Story and animation: Qinru Zhang
3D printing and building: Qinru Zhang
Voice actor: Gaya Ciao
② Momomomomi, 2022.
Body-tracking
AR digital clothing, 3D printed body parts, Raspberry Pi Video looper.

Momomomomi is a girly hero figure in an ornamental combat dress designed by Zhang. This year-long research piece is dedicated to exploring the rationality behind the existence of hyper-ornamental aesthetics and the focus on appearance in stereotypical female descriptions. This installation enshrines Momomomomi in being the ultimate magical girl savior that sends out her girly power by putting everyone in her outfit through AR. An animation loop of the artist transforming into the magical girl is placed inside the 3D-printed head to explore the relationship between her body and the identity of a female warrior. The experience is later formatted into an online filter, which received 200K+ clicks on social media within two weeks of publishing.
3D model and 3D print, Animation: Qinru Zhang
Techinical support: Meghan Surges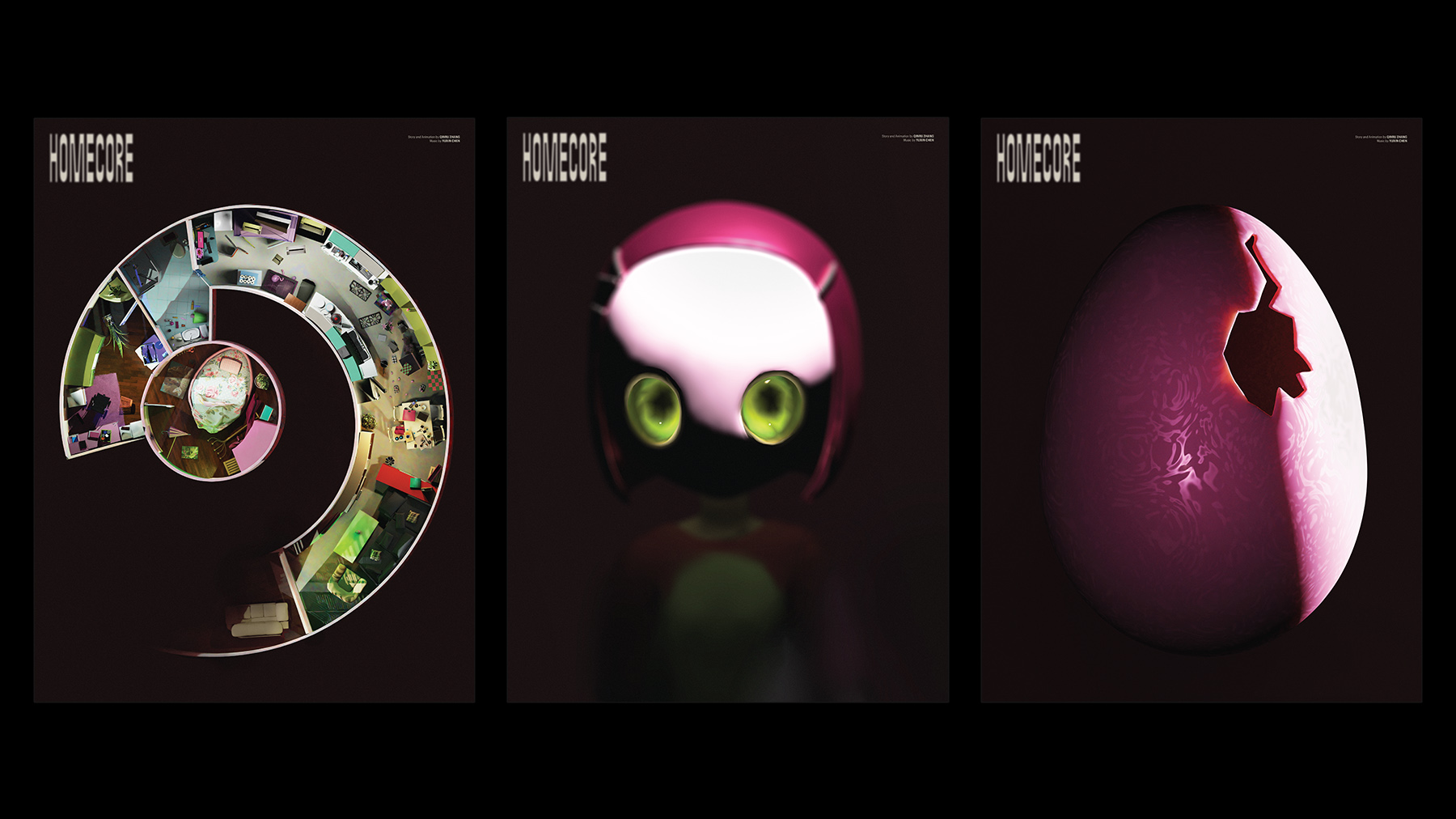 ③
Homecore,
2022. 360 Animation, 12:54.
Click to watch
. Posters set of 3, print, 18″x24″. Listen to the animation track
here.
Homecore is an animation speaking to the nostalgic complications between future and past, memory and reality, self and others. Inspired by Lacan's Mirror Theory, Homecore sees urban domesticity as an enchanting no-exit space of self-reflection through the protagonist's looped daily life. While the content mixes dreams with reality, the viewing medium also lies on the verge of reality. Audiences can choose to watch a 360 animation on a flat screen or experience the protagonist's mentality in virtual reality.
Story and animation: Qinru Zhang
Poster design: Qinru Zhang
Music: Yuxin Chen
Voice actor: Xiner Lan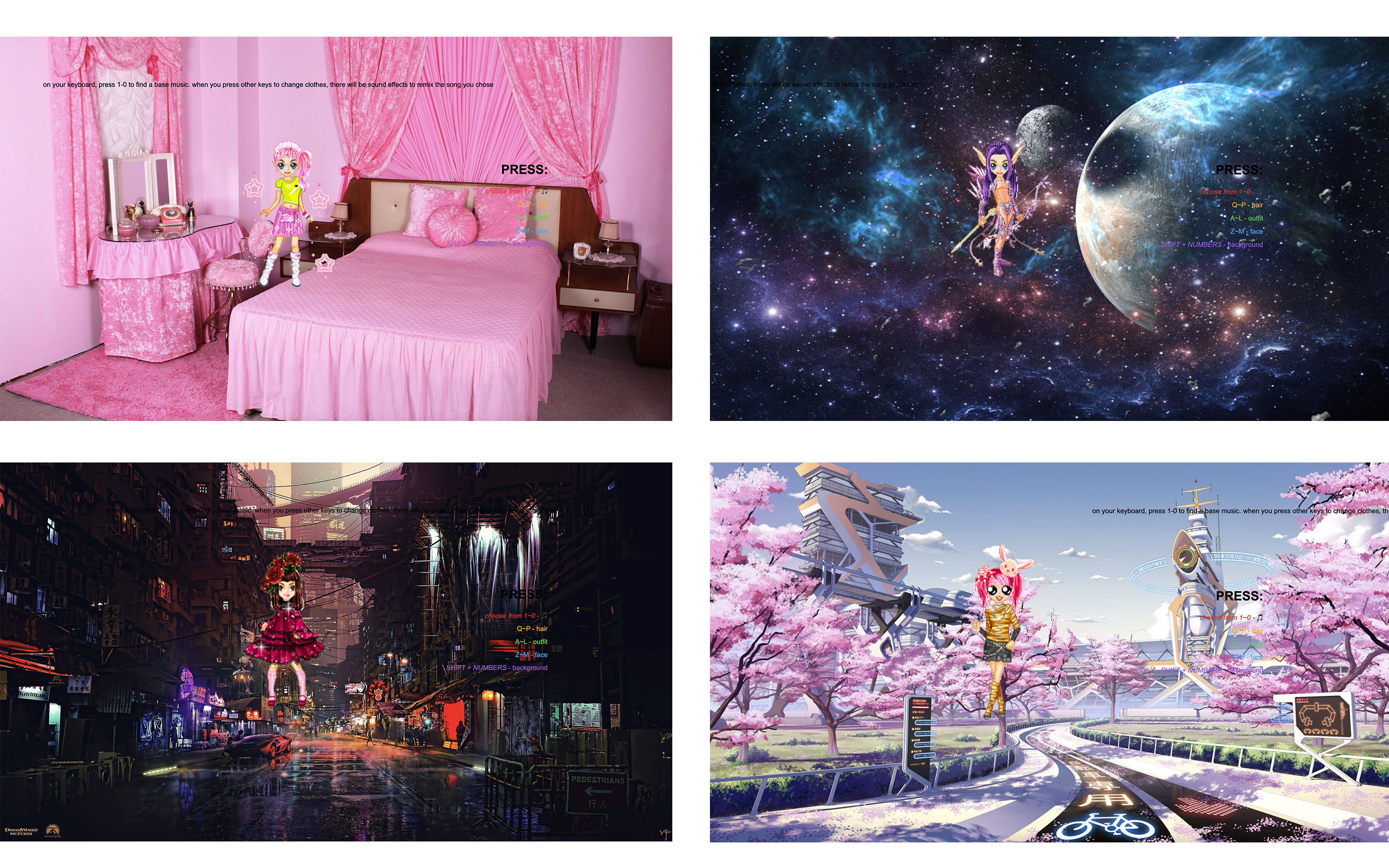 ④
Dressing Up and Remix
, 2020. Coded with HTML and CSS.
Click to play.
Dressing Up and Remix is a web game exploring the surging of digital identities during China's urbanization period in the 2000s. The character design derives from the Tencent QQ Show game, once the most popular socialization platform in China. The stock image quality also brings audience back to the starting era of computers. It is conceptualized from the internet being a welcoming safe space for non-mainstream identities. Pressing any key on the keyboard will randomly change parts of the outfit and play a sound. When players press multiple keys altogether or one by one, the game becomes a fashion show and the players become the DJ and VJ.
Design and code: Qinru Zhang
⑤
Future Wonderland,
2021. AI Image Generation,
Animation
,
Coded Website for Research Presentation
. Featured on
Denver Digerati's
16th and Arapahoe LED screen.
This is an artistic dialogue between AI's cyborg hand and the artist's human hand through dimensionality. Zhang uses AI Spade Coco to create an animated world of figures with ambiguous appearances to blur the boundary between species, organisms, and robotics. The flat quality of the figures within a 3D space depicts the conflicts of identity presentations within and outside of the digital space. Through the mixture of 2D and 3D, organism and inanimateness, Zhang raises an open question of how to find the balance between algorithmic technology and human spiritual intricacy. The research and AI test process is presented
in this digital gallery.

Design and animation: Qinru Zhang
Image generation: Space Coco - Runway
Digital Display: Denver Digerati, with support from Denver Theatre District and Orange Barrel Media.
⑥
Digital Bug,
2021. Coded motion-tracking system. Click through to see demo.
This is an interactive experience discussing digital presence through the abstraction of representational images. Participants can create a bug-looking digital creature from their captured movements. As the digital world becomes a safe space for users to embrace and identify themselves with avatars, it has also become the hotbed for anonymous crimes. Seeing oneself becoming an unidentifiable creature on the screen, Zhang aims to show the complexity of the virtual space and raise conversations on the "bugs" in the digital realm.
Design and code: Qinru Zhang
Program: Processing
➊ Digital Art
➋ Professional Work

➌ Graphic Design
④ CV

Viewing direction:

Zhang's work contains Digital Art, Professional Work, and Graphic Design, and each can be reached by clicking the numbered table of contents above. In each category, every work is presented with documentation slides and descriptions. Click through the slides for detailed photo and video documentation, work process, and exhibition presentation.