① Momomomomi, 2022.
AR digital fashion, 3D printed body parts, Raspberry Pi Video looper.

Momomomomi is a girly hero figure in ornamental combat dress designed by Zhang. This installation enshrines Momomomomi to bridge the audience and stereotypical feminine characteristics. An animation loop of the artist transforming into the magical girl is placed inside the 3D printed head to explore the relationship between her body and the identity of a female warrior. The experience is later formatted into an AR filter, which recieved 200K+ clicks on social media within two weeks of publishing.
3D model and 3D print, Animation: Qinru Zhang
Techinical support: Meghan Surges
②
Homecore,
2022. VR Animation, 12:54.
Click to view
.
Homecore is an animation speaking to the nostalgic complications between future and past, memory and reality, self and others. Inspired by Lacan's Mirror Theory, Homecore sees the urban domesticity through a little girl's eyes and imaginations. While the content mixes dream with reality, the viewing medium also lies on the verge of reality as audience can choose to watch a 360 animation on a flat screen or experience the protagonist's mentality in virtual reality.
Story and animation: Qinru Zhang
Music: Yuxin Chen
Voice actor: Xiner Lan


③
The MILF Collection,
ongoing multimedia project. Currently includes
The MILF Film,
2021. 3D Animation. 06:36.
Click to view;
The MILF Head
, 2022. Interactive Animatronic;
Wedding Picture,
2022. Print;
The MILF Bot,
2022. AR Filter.
This project looks into the suppressed desires of Asian housewives. Zhang portrays a formulaic and sexualized 'MILF' identity into an uncanny distinct individual in a variety of mediums. The project starts with a narrative animiation on the gender imbalance in a domestic household. With the aim to connect with audiences beyond the screen, the project develops into an animatronic milf head with responsive green eyes, installations with a wedding image print, and mobile experiences with AR filters. To break the boundary of media, Zhang aims to recreate the MILF in more methods to enrich The MILF collection.
The MILF Film
is featured in Palm Springs Animation Festival, Situasian Exhibition, and Bright Future Open Media Show. An interview(Chinese) on this piece between Situasian and Zhang can be found
here
.
Story and animation: Qinru Zhang
3D printing and building: Qinru Zhang
Voice actor: Gaya Ciao

Exhibition brochure content provided by Situasian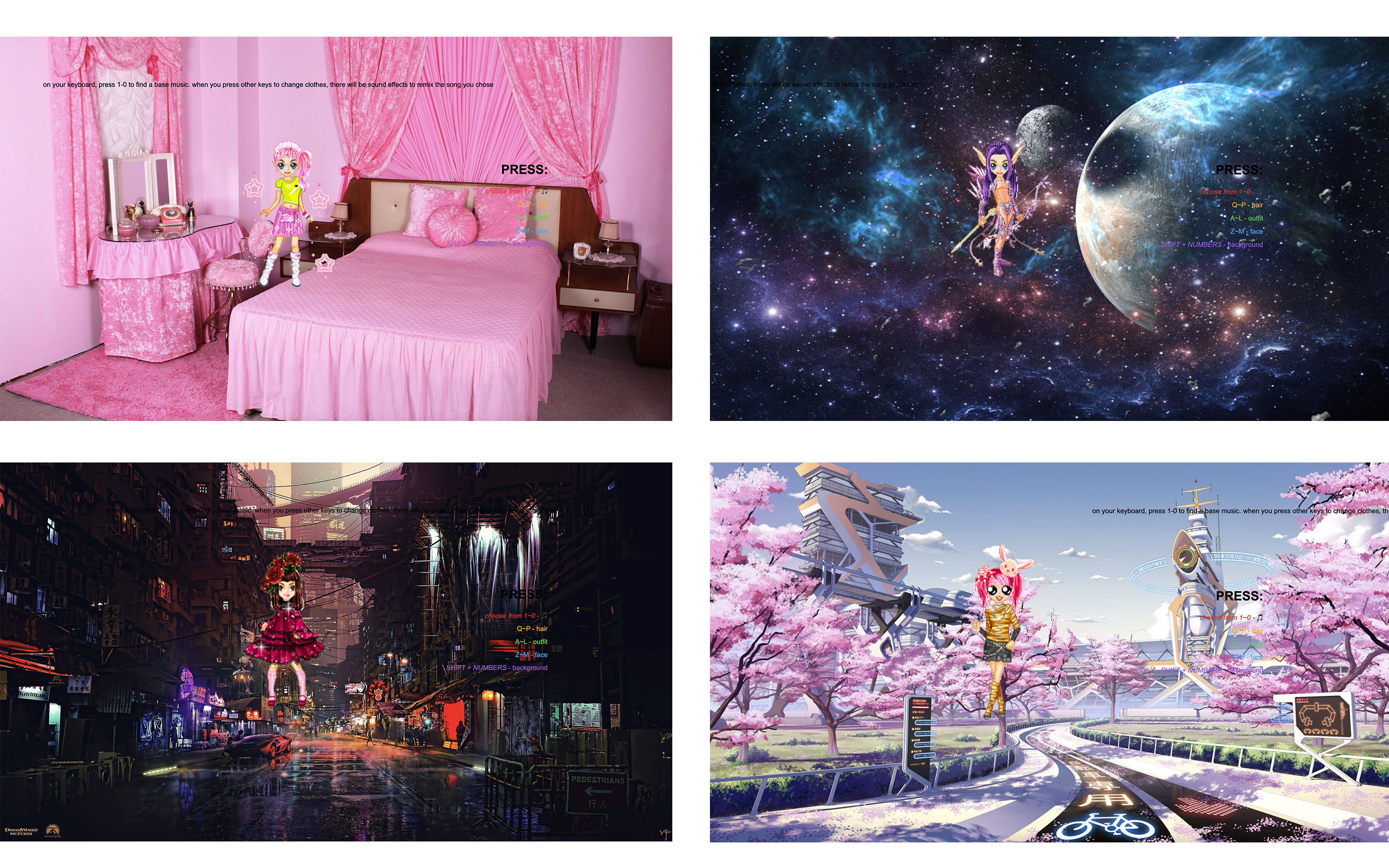 ④
Dressing Up and Remix
, 2020. Coded with HTML and CSS.
Click to play.
Dressing Up and Remix is a web-game exploring the surging of digital identities during China's urbanization period in 2000s. The character design derives from the Tencent QQ Show game, once the most popular socialization platform in China. The stock image quality also brings audience back to the starting era of computers. It is conceptualized from the internet being a welcoming safe space for non-mainstream identities. Pressing any key on the keyboard will randomly change parts of the outfit and play a sound. When players press multiple keys altogether or one by one, the game becomes an instrumental fashion show.
Design and code: Qinru Zhang
⑤
Future Wonderland,
2021. AI Image Generation,
Animation
,
Coded Website(Click
to view)
. Featured on
Denver Digerati's
16th and Arapahoe LED screen.
This is an artistic dialogue among AI's robotic hand, the artist's human hand, and dimensionality. Zhang uses AI Spade Coco to create a world of figures with ambiguous appearances to blur the boundary between reality and fantasy. The flat quality of the figures within a 3D space depicts the conclicts of identity presentations within and outside of the digital space. Through the mixture of 2D and 3D, organism and inanimateness, Zhang raises an open question of how to find balance between algorithmic technology and human's spiritual intricacy.
Design and animation: Qinru Zhang
Image generation: Space Coco - Runway
Digital Display: Denver Digerati, with support from Denver Theatre District and Orange Barrel Media.
⑥
Digital Bug,
2021. Motion-tracking system from coding. Click through to see demo.
This is an interactive experience discussing self-dentity through abstract and representational images. Participators can create a bug-looking digital creature from their captured movements. As the digital world becomes a safe space for borderlined identities to embrace and identify themseleves with avatars, it has also become the hotbed for anonymous hate comments and crimes. Seeing onself becoming an unidentifiable creature in the screen, Zhang wishes to show the complexity of the virtual space and raise conversations on the "bugs" in the digital realm.
Design and code: Qinru Zhang
Program: Processing


Featured in Avatar GIF by RaidenINST, Cryptovoxles. 2022.11
HouseLanlanli Interview, Digital. 2022.10
Situasian, Xiamen, China. 2022.9
Dare to...NFT Group Exhibition. New York. 2022.5
FAV Senior Show Screening, Providence. 2022.5
Bright Future, Open Media Show, Providence. 2022.4
Palm Springs Animation Festival. 2022.4
M3DIUM X RISD Collection, Digital. 2022.3
Digital Daily No.125, Denver. 2022.1
Remote Landing, Beijing. 2021.9
FAV Junior Show, Digital/Providence. 2021.5
Memories and How We Hold Them, Providence. 2021.4
The Indy, Volume 42 Issue 2, Publication. 2021.2
WordHack Online Performance, Digital. 2020.11
Online Haunted House, Digital. 2020.10
Kitsch Summer Blowout, Digital. 2020.9
Light of the Future, Shenzhen. 2020.8